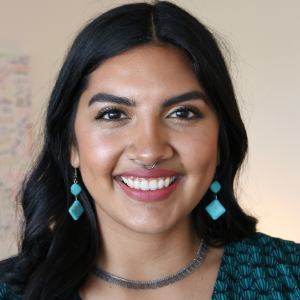 Karla Aguilar Marquez, MA, MSW
Student Researcher/CARE Advocate
Ph.D. Student
She/her/Ella
Karla's commitment to eliminating sexual and relationship violence has led her to develop and implement various primary prevention strategies and survivor support efforts across several institutions, organizations and communities. Her advocacy is grounded in intersectionality, trauma-informed and healing-centered frameworks, and ancestral knowledge. Identity and community are critical parts of her activism, indigeneity, resilience and joy. She is an incoming first-gen Ph.D. student in the Higher Education & Organizational Change (HEOC) program at the UCLA School of Education & Information Studies. Karla is a UC Riverside alum having graduated in Anthropology/Ethnic Studies and has a Master in Social Work (MSW) from the University of Southern California concentrating in Community Organization, Planning and Administration (COPA) and a Master of Arts in Education (MA) from the UCLA School of Education & Information Studies. As a Graduate Student Researcher/CARE Advocate for the CARE Office, Karla will be researching and supporting survivors on campus with their academic and healing needs. She enjoys salsa/bachata dancing, eating yummy foods, spending time with her friends and family, and taking trips into nature.