Healing from trauma can be a journey. The way we heal is greatly impacted by who we are as individuals, the identities we hold, our geographies, and our histories. Access to resources like therapy can be challenging for some and those people still deserve the opportunity to have space held for them and to experience community. With respect to the far-reaching and complex impact of trauma, CARE offers alternative forms of healing for survivors including yoga, journaling, music, art, and dance.
Healing programs are open to all-genders, all-ages, and all current UCLA affiliates, unless otherwise stated. Programs are also available by request and can be tailored to the unique needs of individuals and communities. If you would like more information about requesting a program for your organization or department, please contact CARE.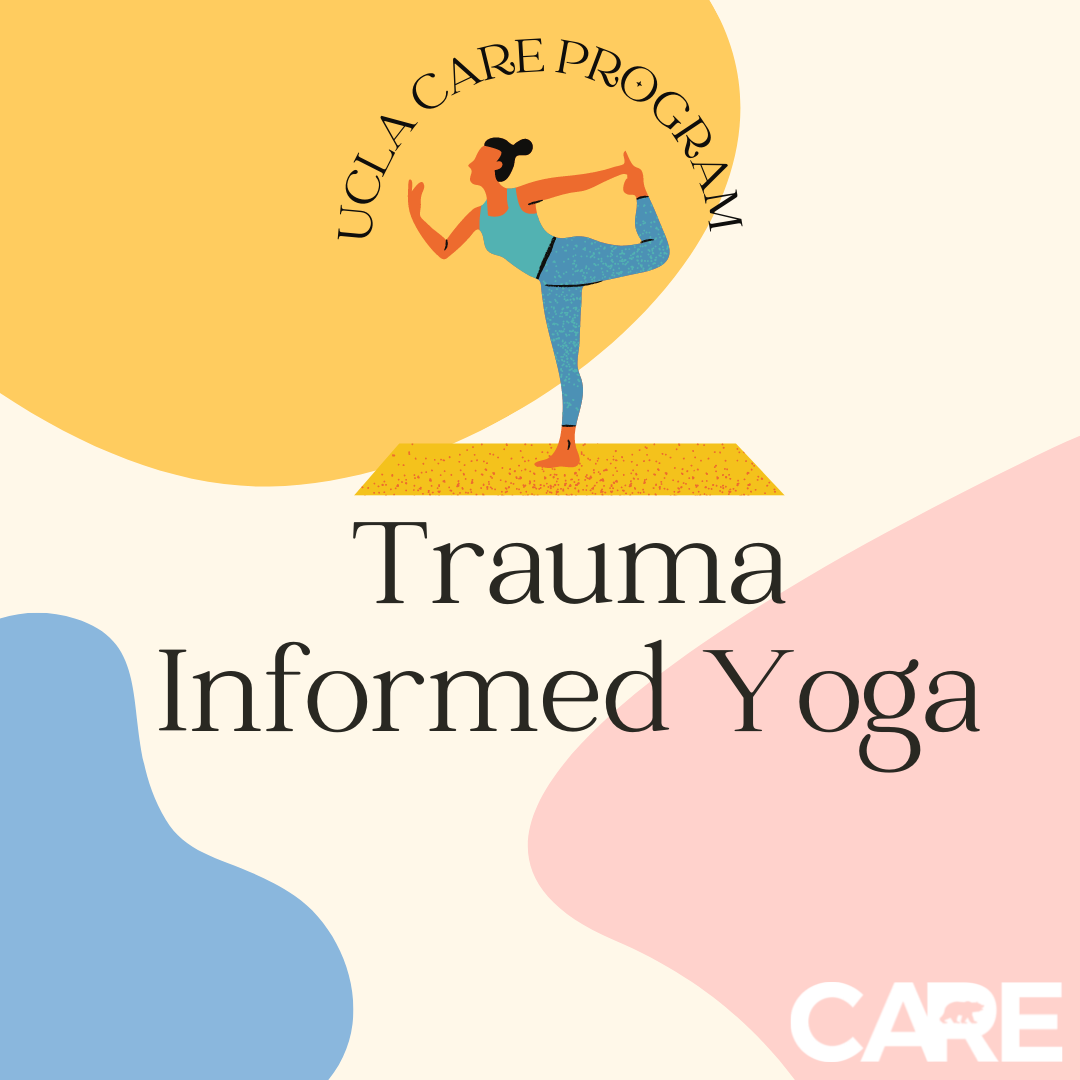 Trauma-Informed Yoga for Survivors of Sexual Assault
Yoga as Healing offers survivors a safe space to gain greater awareness around strength, stability, assertiveness, and mindfulness. Classes will have different themes, focus on various restorative postures, support the nervous system, explore positive affirmations, and will also be coupled with guided activities including de-briefing exercises, journaling, and art. Classes will support survivors in re-connecting with themselves and building community with their peers. Please note this quarter we are offering a specialized series for survivors. A brief meeting with the Program Director of Trauma-Informed Programs is required in order to participate.
Sign up Here: https://sa.ucla.edu/Forms/p/Yoga2022
After filling out the interest form, a confidential advocate will contact you regarding the next steps
Time: Wednesdays, 3:30 - 5 PM
Location:
In-person, The Rise Center, LuValle Commons, 398 Portola Plaza, B-Level
Events Dates:
January 19th
January 26th
February 2nd
February 9th
February 16th
February 23rd
Mindfulness Meditation Drop-In with MARC
CARE is partnering with the UCLA Mindful Awareness Research Center (MARC) to host free, in-person mindfulness workshops at the RISE Center. Participants will learn an overview of mindfulness, how mindfulness can help with difficult emotions and thoughts, and how mindfulness can cultivate positive emotions. Space is limited to first-come, first-serve. No registration is required.
Time: Thursdays, 12:30 - 1PM
Location: Zoom, Link TBA
Event Dates:
January 20th
January 27th
February 3rd
February 10th
February 17th
February 24th
Hope & Healing
The Hope & Healing series includes mindful exercises, journaling & guided meditation to promote healing at your own pace. Participants can take some time and space during their busy weeks to acknowledge and put into practice the choices we have in our individual healing.
Please check back for future programming.
Healing Expressed through Art (HeART)
HeART offers survivors a safe space to explore healing, emotions, and identities creatively through art. We aim to provide a creative community for survivors to heal together, explore emotions, and build support. Offered through a virtual format, we understand that access to art supplies at this time may be limited, so all of our activities can be created with a piece of paper and pencil. If you have specific mediums you prefer, you are always welcome to utilize them for the projects. It is not required for folx to have experience in art to participate.
Intake with a CARE Advocate is required for participation.
Please check back for future programming.
A W(rite) to Heal
A four-week virtual journaling series focusing on healing and empowerment for survivors. A Write to Heal offers a space to safely express emotions, feelings, and thought.
Intake with a CARE Advocate is required for participation.
Please check back for future programming.